About Contracting Services of Michigan
For over 25 years, delivering on-time, quality industrial, commercial and institutional building construction projects.
If you have been on the lookout for a full-service construction company in Metro Detroit, your search ends at Contracting Services of Michigan. We specialize in commercial, industrial, and institutional projects and have experience handling small as well as big projects.
Contracting Services of Michigan was established over 25 years ago and since then, the company's sole aim has been creating satisfied customers. Catering to this aim, since the very beginning, the company has maintained its core focus only on commercial, industrial and institutional projects, refusing to divert its attention from these areas. This commitment has allowed the company to develop expertise in its core areas and undertake and accomplish each task with a level of perfection often customers seek but do not get. The company started with small projects. However, due to our loyal and satisfied customers who showered us with referrals in abundance as well as our dedication to providing quality service, we were soon winning big projects.
Over the years, the philosophy of the company has remained the same. Contracting Services of Michigan is committed to providing the highest level of service and quality to its customers. We make it a point to stick to the timelines and budget quoted to a client, irrespective of however many hindrances we find ourselves dealing with on the way. More importantly, we understand customers' need for choices and options and therefore, our team works incessantly to ensure our customers have an array of options to choose from at the best prices possible. This underlying philosophy and dedication are what sets up apart from our competitors.
Apart from our commitment to providing quality services and creating happy customers, we have also devoted ourselves to staying at the top of our game by ensuring that all our team members are well-aware of the latest building and remodeling trends. Our teams understand the importance of reliability and sincere commitments as well as open communication and real-time responsiveness, which is why we keep our clients informed every step of the way.
In the future, as it has been in the past, we aim to grow by creating life-long relationships with our clients and establishing foundations that extend beyond the routine customer-company scenario. We value our employees as much as we value our clients. Therefore, our employee's safety is our priority. Other than our commitment and dedication to providing on-time, reasonably priced quality services to our clients, we are also committed to creating a safe working environment for all our employees and sub-contractors. Ensuring their safety has always been one of our top priorities.
Contracting Services of Michigan takes immense pride in knowing that we have created many happy and loyal clients in our journey so far. Our proudest moments, as a company, have been those when a client appreciated our work or when an employee confessed to how much they enjoyed working at the company. We do not measure success by the profits we make but the number of projects we delivered on time, within the specified budget and while ensuring full safety of all employees. Our primary metric for measuring success is customer satisfaction and that is how it will always be.
Eco Friendly Construction
At Contracting Services of Michigan, we are fully versed in the new green building techniques. Let us build your new green building project.
The Newest Technology Repairs
We embrace the use of the newest of technologies in order to add to the quality and speed of our projects.
High Quality Construction Management
We know the importance of having a strong and positive influence with our customers. This allows them the confidence to let us run with the necessary thought process needed to solve a defined problem. Our entire culture is directed toward pushing the limits of service and reliability with almost real time responsiveness and communication.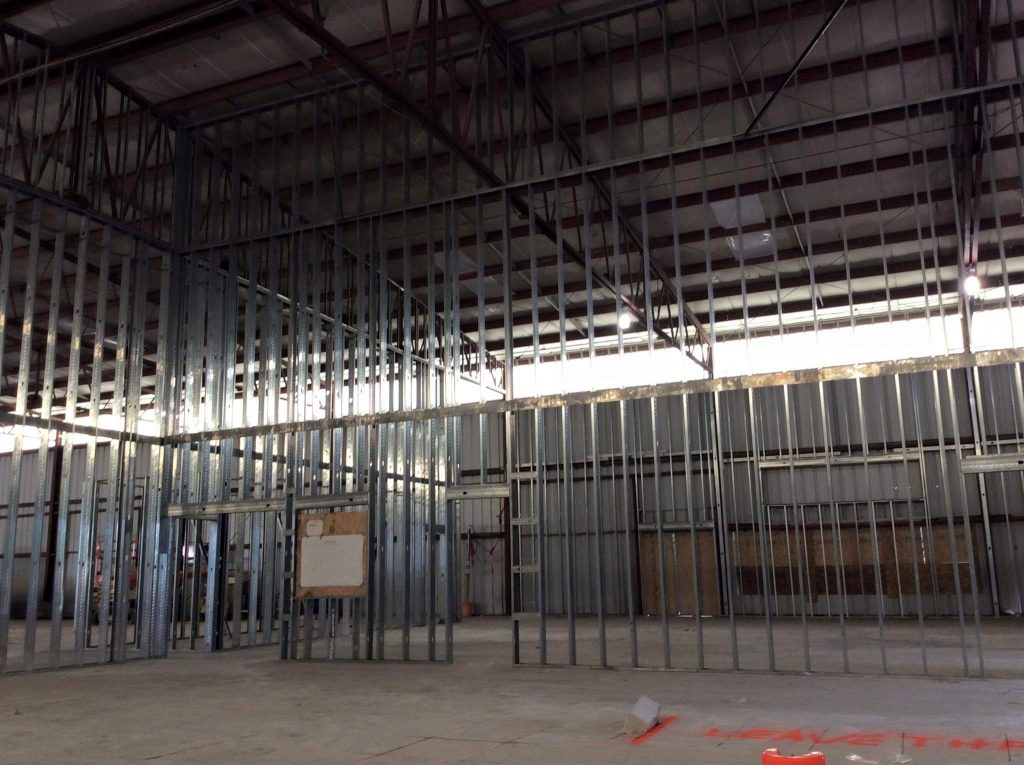 We Are Experienced In Modular Cleanrooms
Modular cleanrooms are facilities that are designed for the purpose of certain fields of research such as biological or chemical research, and also for the manufacturing of certain high precision products. These modular cleanrooms have a logarithmic classification system that follows a grading scale based on a number of allowable particulates in the air. Class one rooms have 1 particle for every 0.5 micrometers of cubic space and so on. The class number resembling the maximum amount of particles allowed in 0.5 cubic micrometers.
As for filtration systems, modular cleanrooms often use HEPA filters and ULPA filters. These filters can remove up to 99.9% of the particulates in the air using various air flow techniques. Some cleanrooms employ a positive pressure to keep particles out, and then some employ negative pressure to keep contaminants in. The application you will be using your modular cleanroom will determine whether you will need a positive or negative pressure cleanroom. It is no surprise that the need for a cleanroom can be overwhelming. Panel Built can help with the confusion. The panels, windows, and doors common to our in-plant modular office system already meet your Class 1000, Class 10,000, and Class 100,000 needs. Our sales staff has the knowledge to combine our wall system with the appropriate cleanroom components to ensure your cleanroom meets your strict requirements.
Features:
HEPA and ULPA Filters
Single package air-conditioning
"Sticky Mats" to keep dirt and grime from entering
Air curtains
High-speed roll-up doors Anterooms – Entrance air-lock before entering the cleanroom